Dear CERT Member:
Lots of news and info to cover as we roll into summer:
First, let me thank our CERT volunteers at the Germantown mass vaccination site, and the MobileMed clinics. You truly have a made a difference for hundreds of people in our county.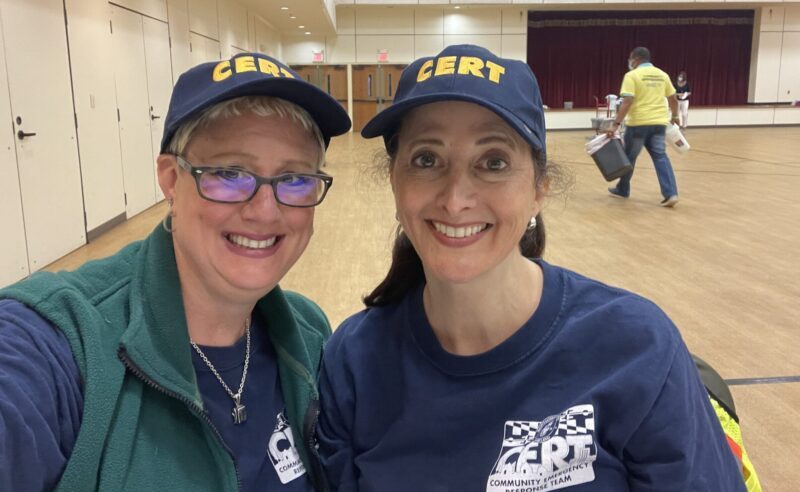 As Montgomery County moves closer to re-opening, we can now announce in-person CERT events and training will be resuming.
CERT Practicum- There will be CERT practicum for those students who completed CERT Basic online in 2020/21. The practicum takes place over two days on July 10 and 17 at the PSHQ. Full details have been sent to students and will be on the training page as well.
ASHI CPR Recertification- Four CPR recertification classes are scheduled to begin July 24, and run through September 11 with details being sent via CERVIS and posted on the CPR section of this website. Members who have taken ASHI CPR through CERT and are members in good standing will be eligible to register for the classes.
Work continues designing graphics and outfitting CERT 700. Chief Kelley is working with the PSTA to develop the driver training program and our leadership team is finalizing the policies and procedure for the operation of the apparatus.
MC CERT was well represented at the memorial service for retired Division Chief Alan Hinde.
CERTCON 2021- The 10th annual CERT CON was dedicated to the memory of Chief Hinde. Jennifer St. James took the time to put together a lovely look back at the ten years of CERT CON. Please take look.
Finally, we are ready for some fun and relaxation this summer! Save the date for Saturday, August 7, 2021 for the annual Montgomery CERT picnic. This year, we are fortunate to have partnered with Madison Fields farm up in Dickerson for our event https://madisonfields.org/. Bring the family! This will be a potluck- where folks will sign up to bring a dish to pass, This farm location has a very peaceful and beautiful setting, with a full wrap around porch for sitting, barbecue grills, and a chance to hang out with the goats, sheep, horses, a place for games (corn hole and others) and a fishing pond! Stay tuned on how to sign up for the event in CERVIS. Billy the goat and his friends will see you there!
Have a safe and happy 4th of July.
Greg St. James
CERT Program Manager
Montgomery County Fire and Rescue
PSHQ 2nd Floor
100 Edison Park Drive
Gaithersburg, MD 20878
240-777-2407
greg.st.james@montgomerycountymd.gov